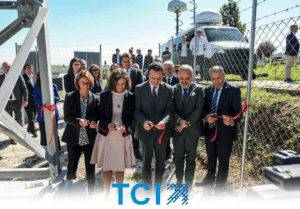 The Prime Minister of Kosovo, Albin Kurti, accompanied by relevant government ministers and World Bank officials, inaugurated on Monday, Kosovo's National Spectrum Monitoring System (NSMS) supplied by TCI International Inc, by opening the spectrum monitoring station in Mitrovica, northern Kosovo. The establishment of NSMS is part of the Kosovo Digital Economy Project (KODE), financed by the World Bank and implemented by the Ministry of Economy of Kosovo.
"Digitalization is an important agenda for the World Bank in Kosovo, as it is highly relevant for productivity of firms, educational outputs and many other areas supporting economic growth", said Massimiliano Paolucci, World Bank Country Manager for Kosovo. "The World Bank is very proud to have contributed to equipping Kosovo with the National Spectrum Monitoring System and other elements important for digital economy".
The Washington DC based World Bank's Practice Manager for Digital Development for Europe and Central Asia, Nicole Klingen, also attended the inaugural event. "We are glad to see that Kosovo is not lagging in its digital priorities and ambitions, but they will depend on Kosovo's infrastructure and innovative technologies such as 5G, which require a proactive and modern approach to monitoring", said Klingen. "We believe that the National Spectrum Monitoring System, which we inaugurate today, will make a lasting contribution to this cause and will serve Kosovo well".
TCI spectrum monitoring products are used worldwide to detect interfering and unauthorised RF transmissions, monitor emergency frequencies, and protect large-area, high-value assets, such as airports and seaports, as well as industrial and educational campuses.
Find out more about the full range of TCI Spectrum Monitoring Products or Contact Us for further information.