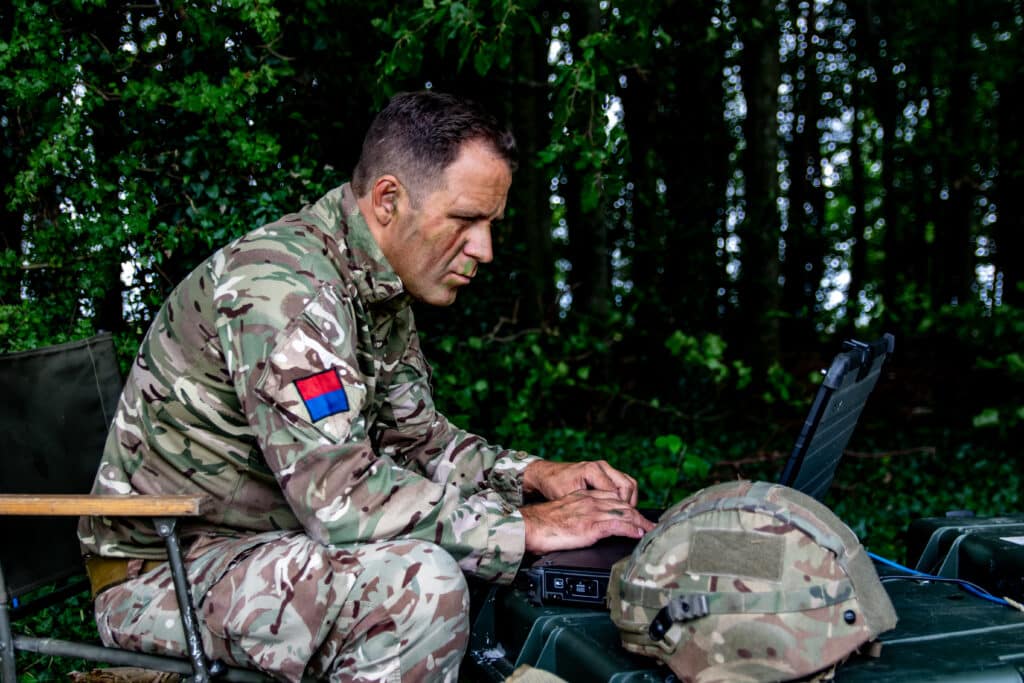 All around the world, heightened political, military and societal tension, and the growing use of electronic warfare, demonstrates the unparalleled importance of managing and understanding the Radio Frequency (RF) spectrum today. Furthermore, the ability to record, receive, and stream real-time high-quality video and data is critical for all defense, security, and policing organizations charged with securing their nation's population and Critical National Infrastructure. At SPX CommTech we're committed to providing solutions that allow faster, more detailed communication between teams and across longer distances to ensure a smarter, more secure future for all.
Since its inception in 2021 SPX CommTech, made up of ECS and TCI, has created, developed, and launched scalable RF solutions and support services that deliver mission success. We're continually innovating with leading edge technologies to address the needs of present and future defense and security teams.
In this context, we've recently introduced two new RF solutions for faster Unmanned Aerial System (UAS) detection and defeat, and for improved Intelligence, Surveillance and Reconnaissance (ISR) missions for defense and security users – both exhibited for the very first time at DSEI 2023 in September 2023.
Enhanced UAS detection and defeat – threat analysis and response is critical to global security. SPX CommTech's next generation Transportable Tactical Communications Intelligence (COMINT) 953 RF Receiver provides superior identification, direction-finding, and tracking of hostile RF signals to support COMINT and Counter-UAS tactical operations.
Developed by TCI, the new 953 COMINT RF Receiver builds on the success of its predecessors. It now boasts reduced size and weight, but with greater power. This makes the device portable for dismounted operations and easily mounted on a vehicle to support mobility operations. For example, it can be carried to an elevated position in a dismounted role, such as a tactical position only accessible on foot or on top of a high-rise building, to ensure the antenna is situated at height for optimum signal detection and increased range.
The 953 COMINT RF Receiver performs continuous, unmanned, remote, and real-time signal collection up to 80MHz bandwidth across a frequency of up to 40GHz for signal monitoring, collection, and direction-finding. This bandwidth delivers a sweet spot between monitoring sufficient signal breadth and amplitude to ensure quality and accuracy in identifying threats. It's powered with removable hot-swappable batteries for round-the-clock use. The new compact chassis is IP-67 rated to withstand temperatures up to 50°C to deliver full operational capability in extreme hostile climatic environments. It also boasts increased removable storage of up to 2TB for enhanced data capture. The 953 COMINT RF Receiver is powered by SPX CommTech's well-renowned Blackbird software application. Blackbird detects, identifies, direction-finds and tracks signals of interest to support, find, fix and strike operations, and mitigate electronic warfare threats. It also tracks the RF emission of UAVs and their controllers or Data Links to support counter-responses. Blackbird can record the signal environment for look-back analysis without interrupting the current mission. It simplifies the collection task and can trigger automated actions and support unattended operations.
Utilizing part of the 953 COMINT RF Receiver, Blackbird also uses geolocation to enable defense teams to visualize the location of the frequencies for improved intelligence-gathering and threat management. Blackbird's intuitive point-and-click user experience suits all skill levels and is an evolution of the proven intuitive interface in previous models. This ensures minimal training requirements for existing customers while enabling new users to master the system quickly.
The new 953 COMINT RF Receiver is also backwards compatible with previous COMINT versions and other technologies from SPX CommTech, for cost avoidance, uninterrupted service and seamless scalability for our users. It can also be integrated with open-source or customer-supplied mapping and other integrations.
Improved Intelligence, Surveillance and Reconnaissance (ISR) missions – strategic and tactical information is critical in making timely decisions in environments where every second counts. However, decision-making responsibility is increasingly delegated to tactical commanders operating in environments that are notoriously fast-paced and unpredictable, and where available RF bandwidth is reduced. Therefore, it's essential to find ways to deliver accurate data and communications intelligence in compressed formats so it can be delivered quickly and efficiently.
The new Evenlode Video and Audio Encoder / Decoder developed by Enterprise Control Systems (ECS) supplies high-efficiency video coding (HEVC) H.265 low-latency encoding to deliver superior multi-video compression for efficient video recording and real-time, secure distribution. Latency below 120 milliseconds end-to-end means images are transferred and received in real-time, enabling greater situational awareness, and more accurate, faster response.
It significantly reduces the required bandwidth to transfer the same – or better – quality video and audio data than existing models in the market. Considering the limited RF bandwidths available to defense, security and policing organizations, access to freed-up IP allows greater flexibility for sharing critical data through encrypted file shares. It also allows greater use of applications such as electro-optical/ infrared sensors, and tracking and location data being shown on a moving map – all improving incident response.
The decoder mirrors the encoding capabilities, allowing the real-time restreaming – or transcoding – to multiple destination points such as a command center or at the tactical edge using mobile devices. This adds flexibility to users' video distribution aims in one single solution.
The upgraded video and audio Data Link solution, which is the latest in the ECS Evenlode series, delivers highly sought-after 4K Ultra High Definition video image quality. This delivers a maximum system resolution of 1080p60 and enhances the image after compression, making it easier to identify details and potential threats.
The device is certified to RTCA DO160G standard, which assures the performance characteristics of the equipment required for kit fitted to airborne manned, fixed and rotary-wing aircraft. It's backwards compatible with ECS' operationally-proven legacy equipment, meaning users can keep up to date with the latest decoding technology without upgrading their entire systems.
Tactical Data Links provide the ability for aircraft to become network-enabled across land, sea and air and, therefore, able to carry out ISR missions across all of them. Data is transmitted using sophisticated, in-house designed encryption software. The new Encoder / Decoder has six separate video inputs – four HD and two SD – capable of encoding four videos simultaneously. This allows users to select the latest mission-critical information required without disrupting the operation and simultaneously process multiple video inputs for improved situational awareness.
The launch of the new Evenlode Video and Audio Encoder / Decoder is part of a continued strategic development of technologies that deliver fast and accurate ISR data so timely and effective decisions can be made on the tactical edge.